Up early to clear blue skies.  Today's exploration will be the 5.4 mile Pueblo Alto Complex Loop Trail that takes you past a crazy Chacoan staircase up the side of a cliff.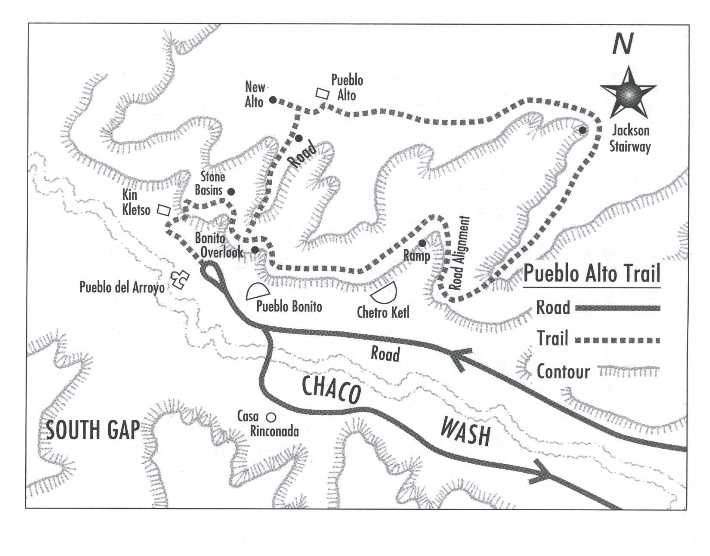 The trail starts aback of Kin Kletso.
It requires a careful scramble of sorts up a narrow passage to the mesa top.
Once through it, you emerge onto a rocky rambling mesa with exquisite views.  
We are the first, and only ones up hiking at this early hour and the rewards are breathtaking.  
The trail meanders about grinding stone spots and numerous pockets of water left over from last nights rain.
(This reminds us that we should always have our LifeStraws with us on day hikes…just in case.)  We are treated to an overview of Pueblo Bonito.
Definite signs/scars of an ancient roadways can be seen in the South Gap of the canyon floor.  
An area of what was also an ancient roadway a top this mesa is roped off for "protection".
As we move northward the mesa continues to stairstep in elevation (270 ft in total) till we reach the absolute top of the mesa and Pueblo Alto.
The horizon's view stretches clearly for at least 100 miles.  And again, we have this all to ourselves!  As we are to head out to the Durango Colorado area this afternoon, we do not linger or explore much of Pueblo Alto or New Alto.  The trail continues to our east cirumnavigating elevated rim of the fingers of the canyon.
A sign "Jackson Stairway" ensures you do not miss the precarious steps carved into the canyon's stone wall.
We see not one, but two sets of stairs (one long, the other much shorter), hewn into the rock, no longer viable due to erosion and lower cliff failures.
These people certainly had no fear of heights…or at least falling.
The trail leads over the top of Chetro Ketl where we thought was to be a descent point, only to continue to descend to the lowest part of the mesa top and make a hard right following the contour of the canyon.  Eventually we find ourselves back at the overlook of Pueblo Bonito, and trace the route back to the narrow passage, from which numerous people are now emerging.  We wait our turn, and carfeully make our way back down to the ruins of Kin Kletso.
Unfortunately I slip 3/4 of the way down  to the bottom of trail (about where Paul is in the picture), violently wedging my right foot into and between several rocks causing the lateral tendon (most likely peroneus longus) of my right ankle to "migrate" into an extremely painful and immobilizing position.  Shit!  At least this didn't happen somewhere in the middle of the hike.  This rarely happens hiking, but generally happens when I try and put my ski boot on, and takes about 5-15 minutes to "relax" and slip back into proper position.  The problem is, is that I have another 40 feet to descend, and am unable to put any significant pressure on my foot without excrutiating ("Hee" breathing) pain (those of you who have been in labor will understand).  Being that I am impatient, and we are to meet my dad in the next 10 minutes, and we have a mile to walk back to the truck, I do my best to ease my way down the narrow rocky trail without setting off too many jolts of halting.  I feel ridiculous.  Once at the bottom, and upon flat terrain, I hobble along with the aid of my trekking poles.  I send Paul ahead to meet up with my dad.  20 minutes later, still hobbling and the tendon firmly out of place, I get to the truck.  Lunch, a chair and a cold beer is waiting.  When lunch is finished, it is time to head out.  We would have liked to spend more time here as well, but we have more territiory to cover.  Off to the Sky Ute Indian Casino's RV park in Colorado, of which we will use as a "base camp" for further exploration of the four-corners area.  A small herd of elk watch as we exit the park…proving our ears did not decieve us.